Corporate Profile
Direcional is one of the five largest homebuilders and real estate development companies in Brazil, focused on developing large scale projects targeting the mid-low and low-income segments and operating in several regions of the Brazilian territory. Over more than 39 years of experience in the real estate development and construction industries, the Company has developed a vertically integrated business model and a standardized construction process, which enables large-scale construction activities and allows Direcional to operate at greater levels of efficiency when compared to its competitors, as measured by the Company's margins and Return on Equity.
The strong performance in the Southeast, Midwest, North and Northeast regions provides the Company with significant knowledge of mid-low and low-income developments. Direcional is present in the Federal District and in 12 other Brazilian states: Amazonas, Amapá, Ceará, Espírito Santo, Goiás, Minas Gerais, Pará, Pernambuco, Rio de Janeiro, Rondônia, Rio Grande do Sul and São Paulo. Despite its presence in 45 Brazilian cities, the Company's operational focus is currently concentrated in eight of the largest metropolitan regions in the country (São Paulo, Rio de Janeiro, Belo Horizonte, Manaus, Brasília, Fortaleza, Recife and Goiânia).
In 2019, Direcional launched R$ 1.9 billion in PSV. In 2020, in the end of the third quarter, R$ 1.1 billion were launched. The Company believes that it has the appropriate operating structure to maintain its growth rate and take advantage of market opportunities. Currently, Direcional has a land bank valued at R$ 25 billion, with a total construction potential of more than 142 thousand units. This land bank would be sufficient to maintain an annual launch volume of over R$ 2 billion for the next 10 years.
AREAS OF OPERATION
Direcional occupies a leading position in real estate development and the provision of construction services in all regions of the country, with operations in the Federal District and 12 Brazilian states, totaling 26 cities.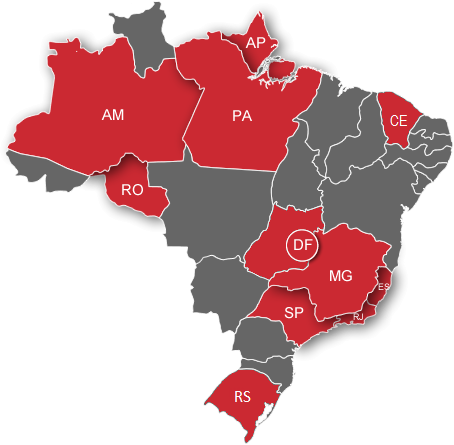 Manaus (AM)
Macapá (AP)
Sobral (CE)
Maracanaú (CE)
Fortaleza (CE)
Taguatinga (DF)
Brasília (DF)
Santa Maria (DF)
Guará (DF)
Ceilândia (DF)
Paranoá (DF)
Riacho Fundo (DF)
Águas Claras (DF)
Serra (ES)
Goiânia (GO)
Luziânia (GO)
Belo Horizonte (MG)
Contagem (MG)
Marituba (PA)
Marabá (PA)
Belém (PA)
Rio de Janeiro (RJ)
Macaé (RJ)
Itaboraí (RJ)
Porto Velho (RO)
Porto Alegre (RS)
Campinas (SP)
São Bernardo do Campo (SP)
São João da Boa Vista (SP)
Sorocaba (SP)
São Paulo (SP)
Rio Claro (SP)
Piracicaba (SP)